For a couple of years now, we've heard that Apple kept putting off a big home screen overhaul for iOS as it struggled with improving its development process to reduce the number of bugs that ship with its big annual releases like iOS 12 or iOS 13.
After those delays, iOS 14 finally brings that home screen renovation to fruition. Apple has introduced home screen widgets in a variety of sizes, given users new ways to manage their apps, and introduced a non-home screen place to put installed apps.
If your first reaction to those features is that they sound a lot like Android, you're not wrong—but as usual, Apple has implemented them in its own way. So which is better for users—the recently released Android 11, or iOS 14, which hit devices only a week later?
Well, it used to be that Android and iOS were differentiated by features, and that's still partly true. But these days, their philosophies about data collection, privacy, on vs. off-device processing, and services are the more distinct differences.
By introducing some key features Android users have always enjoyed that iOS users were missing out on—like live home screen widgets and custom picks for default email and browser apps—Apple has further closed the gap on features, which shifts the comparison even more to the other stuff.
We won't name every single change here today, but we'll get into a whole lot of them while spending extra time on some of the most significant. We'll also touch on what is—and unfortunately, isn't—on tap for iPad users this year. In total, there are a lot of changes in iOS 14—it might be one of the biggest updates of the past few years for iPhone software.
Table of Contents
Compatibility
Once in a while, Apple's major new OS releases end support for devices that their predecessors supported. It happened just last year with iOS 13, which dropped support for the iPhone 5S, the iPad Air, and some other devices.
Fortunately, iOS 14 and iPadOS 14 are not among those cut-off releases. All devices that were supported by iOS and iPadOS 13 work just fine with iOS 14. Now, there's always the question of performance on older devices—Apple's track record has greatly improved on that front in recent years, but there was a stretch when it was a serious problem.
Fortunately, performance is OK on the lowest-spec supported devices. We did a deeper investigation on that last previously, so check that out if you're running an iPhone 6S or original iPhone SE.
Performance aside, here's the list of devices that are supported.
Supported iPhone models
iPhone 11
iPhone 11 Pro and iPhone 11 Pro Max
iPhone XS and iPhone XS Max
iPhone XR
iPhone X
iPhone 8 and iPhone 8 Plus
iPhone 7 and iPhone 7 Plus
iPhone 6S
iPhone 6S Plus
iPhone SE (1st and 2nd generation)
Supported iPad models
iPad Pro 12.9-inch (1st, 2nd, 3rd, and 4th generation)
iPad Pro 11-inch (1st and 2nd generation)
iPad Pro 10.5-inch
iPad Pro 9.7-inch
iPad (5th, 6th, and 7th generation)
iPad mini (4th and 5th generation)
iPad Air (2nd and 3rd generation)
Supported iPod models
iPod touch (7th generation)
Devices used for this review
The screenshots, information, and impressions for this review were based on using iOS and iPadOS 14 beta 8 and the final public releases for both. For iOS 14, we used an iPhone X and XS, and for iPadOS 14, we used a 2020 12.9-inch iPad Pro and an 8th-generation iPad. We did not test iOS 14 on an iPod touch.
A whole-new home screen (sort of)
I'm not going to hold back: for years, the home screen on iOS has been awful. It's the worst part of a mostly otherwise great mobile operating system.
As of last year's iOS 13, the iPhone home screen provided no clear way to surface information beyond the mere existence of an app. It offered no interactivity. It didn't offer enough flexibility in spacing or sizing app icons. And worst of all, the home-screen editing process—that maddening wiggling icon situation—was stupefyingly painful to use. Only blue shells in Mario Kart games produce more pained utterances of swear words amongst users of interactive software than that dreadful, infuriating wiggle mode. For years, this has tormented users with icons bouncing places you don't expect, disappearing to other pages, wrapping strangely, and accidentally merging into folders every step of the way.
Google's competing Android platform had developed good-enough (but still far from perfect) solutions to many of those problems years ago. Even Microsoft's five-years-defunct Windows Phone (whose premature demise I still lament to this day) had a more sensical home screen than today's iPhones.
Last year's iPadOS update introduced home screen widgets, a sort of pared down, less flexible version of the same concept in Android. It was a welcome addition, and it directly addressed the information surfacing problem I mentioned above. Still, it felt like a half measure, and it didn't come to iPhones—just iPads.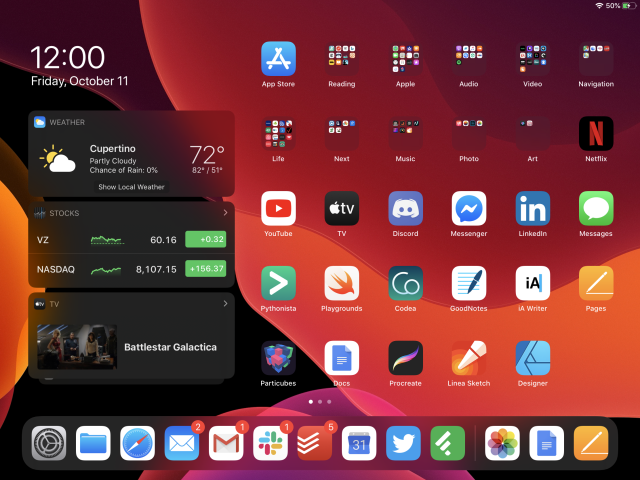 This year, Apple has finally taken a scalpel to the iPhone's home screen to a degree it hasn't since it introduced folders back in iOS 4—an entire decade ago. It has done this by expanding on some of those ideas from the release of iPadOS 13 last year and adapting them to the iPhone's smaller screen.
Does iOS 14 get the home screen to where it needs to be from a company whose pitch is about ideal user experience? I'm afraid not. But it might update the iPhone home screen's grade from a D- to a C or even a B-, and that's progress.
Let's start with the most immediately visible new home screen feature, at least on the iPhone: widgets.
Widgets
Widgets were already available in another form—the Today view—in iOS 13. But now you can place them on any home screen page on your iPhone, and there's a lot of new functionality.
To edit and place widgets, you do a long press on the home screen to start editing said screen. From there, you'll notice a + sign in the top-left corner of the screen. Tap that to bring up a panel that allows you to search and browse your available widgets.
This widget gallery has two views. When you first visit, you can find a preview of some suggested widgets. You can hold and drag these to place them on the home screen in their default size, or tap them to go through a brief size selection dialogue, then place them. Or you can tap the search field and type the name of the widget you want. Once it appears in the search results, you can tap it to be presented with some size choices for the widget.
Making a selection then drops the widget on your home screen, leaving you in edit mode so you can move the widget where you want it. You can also add widgets, as in iOS 13, to the Today view that you access by swiping right from your left-most home screen page.
There's another major step forward here, too: you can create and customize stacks of up to 10 widgets. These stacks make optimal use of your home screen space by putting multiple widgets of your choosing in one spot; you can just swipe with your finger vertically across the stack to move between widgets.
Next up, there's the Smart Stack. With this stack, it will automatically rotate through the available widgets "throughout the day" to show what you most want to see at certain times. There's a toggle option (labeled "Smart Rotate") for each stack where you can enable this smart sorting or not.
It's similar to the already existing machine-learning-driven feature in iOS that shows you a handful of timing-specific app suggestions at the top of the screen when you start a search. Like other widgets and stacks, the Smart Stack comes in multiple size options. You can add multiple stacks (smart or otherwise) to any home screen page.
As with normal stacks, you can customize which widgets are included in a Smart Stack, too, either via an editing panel or by dragging widgets onto the stack on the home screen.

Samuel Axon


Samuel Axon


Samuel Axon


Samuel Axon


Samuel Axon


Samuel Axon


Samuel Axon


Samuel Axon


Samuel Axon


Samuel Axon


Samuel Axon


Samuel Axon


Samuel Axon


Samuel Axon


Samuel Axon


Samuel Axon


Samuel Axon


Samuel Axon


Samuel Axon


Samuel Axon


Samuel Axon


Samuel Axon


Samuel Axon


Axon


Samuel Axon


Samuel Axon


Samuel Axon
The Maps widget is almost useless. It saves you a single tap for searches by letting you open the app straight to a search field, but it's not a live map on the home screen. It's basically just a giant icon that shows your current location—as if there was any doubt, in most cases. The 2×2 version doesn't even give you the quick search benefit.
Apple has made its own widgets for a whole bunch of apps, from Maps to Photos to Music to Stocks. Some—like Weather, Notes, or a widget that shows you the battery level of all your Apple devices—are pretty useful. Others, like Maps, don't have an obvious use case.
It's ultimately good to see these options introduced in this update. In the best examples, they solve iOS' problem of forcing you to bounce constantly between apps to see any information—but none of the widgets that were available while we tested this offered much, if any, actual functionality.
It's not possible to declare a final verdict on widgets in iOS until we've seen support from third-party app developers, though.
Developer adoption and creativity, along with the flexibility and ease of use of the API, will be largely responsible for how useful (or useless) these widgets will be. As is already the case with various other developer-accessible places in the OS—notifications, Siri Shortcuts, haptic touch contextual menus—most will probably be pointless, but a few might end up being major boons for users of certain apps.
Most of Apple's own widgets are not that useful, in my experience so far, but the company has given third-party developers the tools necessary to make some really powerful things.
Looking at the track record of those other examples like notifications, it's a mixed bag. That said, since this implementation is similar in some respects to how Android has done it for years, there may be a fair bit of prior knowledge and experience that will go into making these widgets useful quickly from developers that have worked on both platforms—though there are certainly differences under the hood between how Android and iOS widgets work.
If developers make great use of widgets, they address some common complaints about the home screen—but not all. Luckily, Apple introduced another major feature—the App Library—to answer a few issues of a different nature.
The App Library
Many users of iOS install many dozens or even hundreds of apps these days, and some of them have long since given up on micromanaging their home screens. Thus, they live in a state of perpetual digital clutter.
Other users may have fewer apps, but they wish they could have even fewer. It has long been on my wishlist to be able to remove apps from my home screen—but not uninstall them—so I can access them in search when I need them once in a long while. But normally, I don't want them to clutter up my home screen all the time.
The App Library seeks to throw both of these user types a bone. It's exactly what it sounds like: a place where you can see every app you have installed. Pair that with the newly added ability to remove apps (or even whole pages of apps) from your home screen, and you have at least a partial solution for a lot of folks' frustrations with the way iOS has always handled apps and the home screen.
You reach the App Library by swiping to your rightmost home screen page, then swiping one more time. This brings you to the main view, where the apps are automatically sorted into folders by category. From this screen, you can tap an icon to launch the app, long-press it to access the app's contextual menu, or press and drag to get thrown back to one of your home screen pages where you can drop it in the grid wherever you wish. Unfortunately, you can't override iOS' folder decisions in the App Library view, and the apps' ordering within the folders seems to be based on how much you use said apps.
The interface is a little confusing. For years, iOS has trained users that tapping anywhere on an unopened app folder opens that folder. But these autogenerated folders in the App Library house icons of two sizes: big ones in three of the four quadrants of the folder, and a cluster of small ones in the bottom right.

Samuel Axon


Samuel Axon


Samuel Axon
Tapping the cluster of small ones opens the folder up to a full-screen view like tapping a folder on the home screen, but tapping the part of the folder occupied by a big app icon… launches the app. It's something I got used to, but it's inconsistent with the language Apple has previously established. After all, these App Library folders look just like the folders on the home screen—but they function differently.
You can also skip the categorized screen and tap on the search bar to see a different view. Touching that bar doesn't just start up a search query, it gives you a vertical, alphabetical list of every app installed on your phone with letters from A to Z arranged vertically on the right. Depending on this situation, this can be faster than my common practice of swiping for the search bar from the home screen and typing in the name of an app,
You can scroll up and down the list like you can in any other view like this in iOS, but you can also hold your finger on the vertical bar of letters to jump rapidly across the entire alphabet. I found this hugely useful, though you perplexingly can't do long-press actions on apps in the alphabetical view.
Holding your finger down on an app and dragging in any direction ejects you to the right-most homescreen page, app in hand. It's a little too easy to do this accidentally, which is a bit of a problem given that doing so automatically removes the app from wherever else it might have already been placed on your home screen pages. Many people will accidentally disrupt their carefully curated home screens because of this.
App Library is most useful for power users who have not just dozens but hundreds of apps installed, for minimalism-obsessed users who want a very small number of apps on the home screen pages at any given time but still want to keep others installed for occasional use, or for people who have long since given up on managing their home screens manually.
Mostly, I just imagine how powerful it would be if I could actually control the folder names and categories. But placing your trust in machine-learning-driven recommendations is a bit of a theme in iOS 14 overall.
Hiding apps and home screen pages
The existence of the App Library makes a long-requested feature practical: the ability to hide individual apps from the home screen while keeping them installed on the device.
You can still delete apps from your device the same way you could before, but now when you follow the process you used to delete an app in iOS 13, you're given a choice between deleting the app entirely or simply moving it to the App Library. You can drag it back into the home screen from the App Library later, and the app will still appear in searches or Siri responses and recommendations even if you don't.

Samuel Axon


Samuel Axon


Samuel Axon


Samuel Axon
You can also hide entire home page screens. To do this, you go into the edit home screen mode and tap on the dots at the bottom of the screen—the ones that represent your home screen pages—to bring up a screen where you can check or uncheck pages to show or hide them.
The worst thing about the home screen hasn't changed
Widgets, the App Library, and hideable apps and pages are good additions to iOS, and I'm glad they're here now. Android has offered similar capabilities since what feels like the dawn of time, and they work just as well here as they do on that platform.
But Apple still hasn't fixed the worst thing about managing the home screen: that painful-to-use "wiggle mode" approach to moving icons around. Further, you still can't place an icon at the bottom of the screen without one right before it—that is, the icons are still treated as a per-page, horizontally wrapping list. It would be so much nicer to be able to drop the apps into any slot into a grid at will, but Apple is still not offering this.
If anything, the addition of widgets makes this more frustrating because now you have four different sizes of objects to consider when moving things around, and the rules for how these wrap and interact with one another are not always sane. And because of all the different widget sizes, one misplaced app (which is so easy to do in wiggle mode) can have cascading effects, wrecking your entire layout. The ability to hide apps without deleting them helps with the clutter, at least.
So the iPhone's home screen is generally more manageable than it was before; every change here is a good one. But, I still feel Apple has a ways to go before the frustration meter hits zero.
Less fullscreen, more compact UI elements
Throughout the operating system, Apple has replaced full-screen or large prompts with smaller ones that still allow you to see most of the other content on the screen. For example, receiving a call while you were using your phone used to launch a call answering dialogue in full screen, covering up your work. Now, it's just a little strip at the top of the screen.

Samuel Axon


Samuel Axon


Samuel Axon
Likewise, summoning Siri only brings up the Siri icon at the bottom of the screen. Siri's answers don't always take up the whole viewport anymore, either. There's nothing to complain about with this change as far as I can tell—it's a welcome tweak.
Picture-in-Picture
You can now play video content or view video calls in picture-in-picture mode in iOS 14. It works similarly to how picture-in-picture already worked in iPadOS, but it's a feature on iPhones now, too. Further, the floating picture window is more flexible than it was in the prior version of iPadOS. You can still only move it to the four corners, but the size of the picture is more flexible.
To launch picture-in-picture, you tap an icon while viewing the video. It minimizes into a thumbnail of sorts, which you can drag around to the various corners of the screen with your finger. You can use the same pinch-to-zoom gesture you use in other places on the iPhone or iPad to resize it up to a bit over a third of the screen real estate, more or less.

Samuel Axon


Samuel Axon


Samuel Axon


Samuel Axon


Samuel Axon
Finally, you can swipe the picture to the right or left to hide it, except for one anchor that you can swipe on to bring the video back. To leave PIP and go back to the app the video originated from, you tap the video to bring up the controls and tap another icon to return to normal.
It works as well as it could on a screen this small. It's obviously no way to watch something immersive, but if you're just watching a YouTuber or a newscast, it's nice to have. I found it's especially useful for FaceTime calls.
Apple has also made an API for this feature available to developers, so apps like Skype or Zoom could support it, too. Not every app we tested worked with it just yet, though.
Search and Siri
As we wrote a few weeks ago, Apple is all-in on machine learning and AI these days, and much of that goes into search—which I'm using here as a blanket term for both searches you enter in text fields across the OS or in apps, as well as voice interactions with Siri.
As a result, iOS 14 has a number of small, individual optimizations to how search and Siri work. Much of this is a continuation of stuff Apple was already expanding in iOS 13. For example, Apple has continued its quest to bring more useful in-app search to its various apps like Photos, Files, and Messages; and search and Siri support more general knowledge questions than before.
Further, Web searches are better supported, and Apple has made the user experience for typing in the names of apps to launch them a little clearer.
As usual, though, most of the big changes are Siri-related. Apple sometimes uses Siri as a blanket term for all kinds of search and suggestions across iOS, but we're going to focus on some voice assistant-specific stuff now.
As noted earlier, both the invocation of Siri and Siri's responses are presented in non-full-screen views now. In general, Apple has trimmed here and there to make Siri seem more integrated into the overall iOS experience rather than presenting Siri as a separate, additional layer as it was for a long time.
These changes make it easier to use Siri while browsing other content, which makes Siri much more practical to use. If you're trying to inquire with Siri about something you're reading about on a website, these days you can keep looking at the website while you go back and forth with Siri.
Apple added a grab bag of new things you can do, like cycling directions, sending audio messages, or sharing an ETA with a contact while driving. If you're one of the dozen or so people who owns a HomePod smart speaker (I kid, but only sort of), you'll be pleased to know that Apple has introduced an API that allows third-party music services like Spotify to play nice with Siri on those devices.
Apart from the helpful design and user experience changes, this is not a tentpole update for Siri—iOS 14 just continues the iterative march from previous versions. There aren't any big changes to how Siri works here. Given that Google Assistant is still generally a more effective virtual assistant, that's a little disappointing. Siri just doesn't seem like it was a primary focus this year.
New and updated apps
As is almost always the case, most of the changes in the new version of iOS are in the apps Apple ships with its devices. That's actually a little less true in iOS 14, since so much of Apple's effort went into those home screen features and design changes. But there's still plenty to talk about with tried-and-true iOS apps. Before we get into specifics, though, let's talk about a foundational change that affects two of the most commonly used types of apps.
The big news: Changing default email and browser apps
For the first time in the history of iOS, you can now change your default email or browser app to a third-party app that supports this feature. People who've used virtually any other platform surely find it baffling that it has taken this long for this to happen, and honestly, I do, too, despite the fact that not doing this was just so, well, very Apple indeed.
It's a change in philosophy that comes at a time when Apple has been iteratively turning iOS and iPadOS into more flexible, less limited operating systems. Today, the company's mobile operating systems can more easily work with other platforms and even replace desktop computers for more tasks. iOS is still by no means as flexible as Android, but this is a positive shift of the winds to be sure.
There's no one place in the Settings app where you pick the default—rather, you navigate to the Settings page for any app in a particular class (like Safari or Chrome for browsers) and find the switch at the bottom of the panel. Changing the default here changes it across the operating system. For an app to have this choice, and for it to appear in the list of choices, the developer actually has to support this option. Given the incentives to do so, I imagine almost all good email and browser apps will support it before long. And some, like Spark for email or Chrome for Web browsing, already do.
Messages
Messages hasn't gotten quite as much attention as it did in some other recent versions of iOS, but there's still some stuff to talk about. The majority of the changes relate to group text message conversations.
For example, you're now able to @ mention participants in the conversation just like you might on Facebook, Twitter, Slack, or Discord. And in tandem with that, you can configure busy group text conversations such that you only receive notifications when someone @ mentions you.
Along those lines, you can also reply directly and in-line to specific messages within a conversation and view all replies related to a specific message (again, this is similar to Twitter). If you want, you can even set a photo, Memoji, or emoji as the default image for a group conversation.

Samuel Axon


Samuel Axon


Samuel Axon


Samuel Axon
These changes continue Apple's approach of borrowing ideas to improve Messages from popular, youth-oriented third-party apps a year or two (or more) after said apps introduced them. My only complaint about these changes is that they took so long to happen.
Not much has changed outside of group messaging. You can now search emojis in the emoji keyboard, and the last thing to touch on with Messages (before we get into Memojis, anyway) is pinned conversations—which is just what it sounds like. You can tap the "…" icon near the top-right of your Messages inbox, then tap "Edit Pins" to pin up to nine conversations to the top of the inbox.
Memoji
Look, we know not everyone is all that excited about Memoji. But Apple sure is, because there are a ton of new styles and the like on display in iOS 14, including new hairstyles, new hats, face coverings, and other customization options.
Also, Apple claims it has "revamped facial and muscle structure, [which] makes Memoji and Memoji stickers even more expressive."
Joking aside, it's actually really great to see Apple making such a concerted effort to make sure as many people from as many backgrounds, countries, and identities as possible are represented with Memoji. More choices are always good.
Maps
Maps got a lot of attention last year, with Apple rolling out a bunch of new data, maps, and features in key regions. This year's update is more iterative, with the company bringing some of those things to new regions.
The big Maps story in iOS 14 is that the app finally offers cycling directions—something Google Maps has offered for a long, long time. Like Google's app, Apple Maps will give special routes based on availability of bike lanes and other factors. Cyclists can opt to avoid busy roads or hills before beginning their routes.
The implementation seems solid, but cycling directions are not available in all cities yet—just Los Angeles, San Francisco, New York, Shanghai, and Beijing. Apple will likely add more cities in the coming months. If you have an electric car, you can also get specialized EV routes that account for charging stations and your vehicle's range.

Samuel Axon


Samuel Axon


Samuel Axon


Samuel Axon


Samuel Axon
Maps now also offers Guides, which Apple has made out of the Collections feature introduced in a previous version of Maps (see our iOS 13 review for more on those). Making and sharing Guides works mostly the same as with Collections.
But the big evolution here is that Apple now offers curated Guides from content partners like Lonely Planet—most of them are city-specific. These are lists of locations of interest with editorial descriptions written by those partners. There's nothing revolutionary here, but I suppose it's convenient to have them right in the app rather than having to do a Web search to find the same kind of content.
Finally, here's a quick grab bag of additional changes in Maps:
The redesigned map is branching out to Canada, Ireland, and the UK
Maps will now show officially recognized congestion zones and related tolls in cities that have those (likewise with license-plate access zones in China)
You can see upcoming speed and red-light cameras on the map
Translate
There's just one big new app in iOS 14: Translate. It facilitates almost-live translation between two people using either typed or spoken statements. To start, 11 languages are supported: English (US and UK both), Spanish, Arabic, Mandarin, French, German, Italian, Japanese, Korean, Portuguese, and Russian.
The presentation and layout are generally similar to other translation apps that were already in the App Store—Apple is continuing its practice of making its own versions of popular third-party apps here.
Turning the phone in landscape mode switches to a side-by-side mode, and you can enlarge text in this mode so you can get someone's attention when waving the phone around, if that's your style.
Of course, we don't always have access to reliable wireless service when traveling. Translate allows you to download the libraries for specific languages in advance, so you can get translations when you don't have signal.

Samuel Axon


Samuel Axon


Samuel Axon


Samuel Axon


Samuel Axon


Samuel Axon


Samuel Axon


Samuel Axon
In some cases where what you typed or said could be interpreted or translated multiple ways, a dialogue will pop up asking you for further clarification on what you meant before the translation is provided.
Sadly, I don't speak 11 languages fluently, so I can't judge the quality of all the app's translations. But I am conversational in Spanish as well as a native English speaker, so I was able to try it out between those two languages. As with many machine translation apps, it's not perfect (though the dialogues confirming meaning can make a big difference compared to some other translation apps), but in a short time with Apple's solution, it seemed more or less on par with Google's machine translation—at least between Spanish and English.
Notes
There are a ton of alternatives to Apple's Notes, but this built-in app remains popular—and not just with users who don't know how to switch to an alternative. While others pile on advanced features for power users (or strip features away for minimalism mavens), Notes has exactly the features that most people need. It keeps things focused and simple. Apple hasn't shaken things up here, but there is some iteration in Notes in iOS 14.
First up is the actions menu, which has a different look and layout. It also got one additional action: "Send a Copy." This allows you to export the Note to another app, like Files, or to send the Note to a contact.
There are also some improvements to document scanning, slightly different stylings here and there, the newly added ability to long-press on the style button to make quick changes, and a new "Top Hits" section in the search field.

Samuel Axon


Samuel Axon


Samuel Axon
My personal favorite change to Notes is the removal of the background texture that has long plagued the app. Now, it's just black on white in light mode, and white on black in dark mode. With this long-overdue change, Apple has finally removed just about all the skeuomorphism that dominated the OS so long ago.
Sure, it's subjective. But I can't tell you how many casual users I've talked to who said they won't use Notes purely because of how it looks. I still used Notes, but I always wished I could turn that background texture off. Now it's just gone altogether… I'm not shedding any tears over its departure.
Reminders
As I said in last year's iOS 13 review, Reminders has some seriously stiff competition from third-party apps. I don't know many people who use Apple's built-in app given the strength of what's out there from apps like Todoist.
But last year brought a big overhaul. In iOS 14, Apple is refining what it introduced there and—as usual—adding features that have long been central to popular third-party apps.
One of the most useful additions is the ability to mass-edit tasks by selecting them, then applying an action to all of them at once, like scheduling a time or moving them to another list. And speaking of scheduling a time, there's a new "Details" panel that, among other things, shows you a full calendar view for scheduling your Reminders. This is really nice to see, because it has frustrated me before how sluggish it is to try to schedule reminders in this app.

Samuel Axon


Samuel Axon


Samuel Axon


Samuel Axon


Samuel Axon


Samuel Axon
You could already bring other people into your reminder lists before, but now you can assign individual reminders to specific people, just like you can in a project management app or any number of third-party task management apps that are oriented around collaboration. I don't see teams using this over Trello or what have you, but it's good enough for families or folks who are working on a short-term project like planning a party together.
When someone assigns a task to you, you have the option to decline it. But if it's not declined, it goes into a smart list called "Assigned to Me." Not everyone loves smart lists, though—some folks prefer to curate every list manually. Fortunately, iOS 14's Reminders lets you hide or re-sort these at will.
There are a few other little tweaks across the app, like exposing which lists reminders belong to in more places, including more factors in search results, suggestions to make reminders out of Mail messages, and broader emoji and symbols support.
App Clips
With App Clips, users can be presented with a minimally functional slice of an app from the App Store without needing to download it—for example, if a Web link or a listing in Maps guides them to a simple action like placing an order (Apple Pay is supported in App Clips) or a contact sends them a piece of content that is app-specific.
When Apple first announced it earlier this year, many people asked, "Why would this be useful?" I can think of a number of ways. A notable percentage of smartphone users don't download apps at all; this feature could make more services available to them. It can smooth communication between people using different apps and systems for things like to-dos, or App Clips simply makes things convenient for busy parents who are trying to get something done and don't have time to download and configure an app.
While App Clips can be convenient for some users, owners of big chain restaurants or delivery empires like GrubHub/Seamless are likely to be the biggest beneficiaries. I do worry features like this will continue to increase local businesses' dependence on tech platforms to provide basic infrastructure. Your local independent grocer or brewery likely doesn't have the resources to develop and maintain an App Clips-ready app, so they'll probably turn to DoorDash and pay far too much to do so.
Those are the concerns. But of course, marketers, national or global chains, and big tech companies are going to love it.

Samuel Axon


Samuel Axon


Samuel Axon


Samuel Axon


Samuel Axon
There are very few examples to test right now, but the easiest one to try today is Panera. You just search for a local Panera on Maps and bring up its panel. From there, you can tap a button to start an order, which brings up a full-screen view that is, well, app-like.
It will also show you a little notification at the top inviting you to download the full app, and a link to the App Clip appears in the Recently Added smart folder in the App Library so you can find it later if desired. Unfortunately, I couldn't find a way to manually remove this from my App Library, so you just have to wait for it to cycle out as you use more apps or clips. I'm not a fan of that, but at least it's only in that one smart folder.
Developers have to build these Clips, of course. There are very few examples out there right now, in part because of Apple's unexpected rush to push iOS out the door quickly last week.
Today, App Clips is one of the harder features to judge in iOS. Like some others we've already gone over, it's going to depend almost completely on third-party adoption. As noted above, big brands will do it, others will either have to depend on big brands or won't support it at all. The one example we tested (Panera) was pretty useful, though, even if the App Clip was not very attractive-looking.
Privacy
As Android has come to dominate the smartphone marketplace in terms of market share, Apple has over the past couple of years found its competitive advantage: privacy.
Since Google's entire business model is built around data collection and advertising tech but Apple's is focused on direct sales of devices, services, and content, Apple can take a hardline stance on privacy that Google could never fully match. It's a sharp business strategy: align customers' incentives with yours in a way that turns your competitor's strength into a weakness. That describes a lot of Apple's moves in the marketplace over the past several years, controversial or otherwise.
But in speaking with people working at Apple over the past few years, I've gotten the impression that it's a sincere conviction for many of them. Some people have left companies like Google or Amazon for Apple over this very difference in focus.
Whatever the motivation—both can be true simultaneously—privacy-related changes and features have headlined multiple Apple software updates. iOS 14 sticks to the plan.

Samuel Axon


Samuel Axon


Samuel Axon


Samuel Axon


Samuel Axon
First up, Apple has added privacy information reports to app pages on the App Store, and the company has begun asking developers to report their practices when submitting apps.
These reports list things like what data is tracked, whether the app accesses your location, and so on. Apple has added website reports to Safari, too. These are not generated by the people who publish the webpages; rather, they're lists of trackers the website uses that Safari reports to you.
Some other privacy features are little touches that are pervasive throughout the OS. iOS now displays a small dot at the top-right corner of the screen when any device is actively monitoring the camera (a green dot) or microphone (orange). Swiping Control Center open lets you see which one was doing it.
Apps often ask to use your location or access your photos, but Apple has given users ways to limit that access. In the case of location, there's an option in the Settings app's panel for each app's location permissions to give the app only an "approximate location" rather than an exact one.
For photos, you're able to choose which photos to give an app access to. So in iOS 14, you can pick the specific image you want to upload to a social networking app without giving it full access to everything.
It's fascinating to see Apple weaponizing privacy against competitors like this; Cupertino even runs TV ads about this issue alone. For now, at least, it seems like a win for the user.
CarPlay and CarKey
Apple's CarPlay platform allows both first- and third-party apps to display information and provide functionality on supported car dashboard displays, and there are a few new things on that front in iOS 14. Additionally, there's a major new feature that allows your iPhone to act as a digital car key.
Unfortunately, I didn't have access to a vehicle that supports Apple's various car-related features while working on this review, so we'll have to just list what has been added. First, a few CarPlay changes:
There's support for changeable wallpapers on the CarPlay dashboard and home screen
Third-party apps have access to new templates—specifically for audio, voice dialing, and messaging apps. For example, messaging apps can show a list of recent conversations.
Three new third-party app categories are now supported with developer frameworks and templates: food ordering, EV charging, and parking.
And now for the big one: digital car keys. Surprisingly, Apple doesn't have some capitalized, branded name for this feature. It's just car keys.
If you own a supported car, you can store a digital car key on your phone in the same manner that your Wallet credit cards are stored. You can then use that digital car key to unlock or start your car wirelessly via NFC.
Further, you can share these keys with contacts via Messages, and keys can be shared in one of two profiles. The Unlock & Drive profile is essentially unfettered access—the same kind of access you have to unlock and drive your car however you want. On the other hand, the Restricted Driving profile lets the recipient of the key unlock and drive the car, but you can place restrictions on them like maximum speed, maximum stereo volume, or limits on acceleration.
You can manage the keys in Wallet—the app that is already used to manage sensitive financial assets—where you can review or change people's access for individual keys.
And there are two peace-of-mind features. The first: the keys can be remotely disabled over iCloud, which you'll want to do immediately if your device is stolen. Also, the car key will still work for up to five hours after your iPhone's battery dies.
Camera and AR
With each new version of iOS, Apple usually makes tweaks to the Camera app and updates ARKit, which facilitates third-party developers' use of the cameras or sensors on an iPhone or iPad to create augmented reality apps and content.
On the Camera-app front, this update brings a few features that were previously only available on certain phones to more models. Specifically, that means that QuickTake (which was only available on the iPhone 11, 11 Pro, and SE) now works on the XS and XR. And the quicker, more streamlined interface for switching video capture resolutions and framerates that we saw in the 11 and 11 Pro are now available on all iPhones.
When taking Night Mode photos on the iPhone 11 and 11 Pro, the Camera app now shows an indicator that uses gyroscope data to help users keep the camera steady. This is necessary because Night Mode works by taking multiple photos in a row in a technique to improve low-light performance. Users can now cancel this operation midway through, if they want.

Samuel Axon


Samuel Axon


Samuel Axon
Additionally, Apple has introduced two new options in the Settings app panel for Camera: using the up volume button to take burst-mode shots and flipping selfies taken with the front-facing camera for mirrored selfies. These settings use on/off toggles in Settings, and they will apply to all photos taken until you change them again.
When it comes to augmented reality, Apple introduced a lidar sensor to the iPad Pro earlier this year for AR apps, and it's expected to do the same for at least some of its new iPhones in the next couple of months.
That said, this update to ARKit is a bit muted compared to the past couple steps forward. It adds face-tracking capability to the front-facing camera of any device with an A12 chip or later, introduces "Location Anchors" to initiate AR content and experiences based on the user's location, adds support for video textures applied to virtual objects or real-world surfaces, and improves object occlusion.
So nothing too major has moved forward in the Camera or AR this update. It's mostly quality-of-life stuff, minor improvements to existing features, and giving older devices perks that were previously exclusive to newer ones.
Accessibility
Last year, I praised Apple for making accessibility features such a huge focus in iOS 13—and in the platform in general. This year continues the trend, and every one of the following items is nice to see.
Apple's VoiceOver feature, which speaks text that's on the screen out loud to the user, was already pretty strong. But now, thanks in part to machine learning, the power of that feature applies to third-party apps that don't have it built in. I still believe app developers should think seriously about making supporting features like this on their respective platforms a priority, but not all do, and this could help users who need it.
Apple has improved the quality of what VoiceOver does in general, in terms of recognizing buttons and UI elements and reading descriptions of assets shown on the screen—again, largely thanks to machine learning.
Also a boon for those who are vision-impaired, the Magnifier—a sort of virtual magnifying glass that was already available on the platform—has been made more powerful and flexible.
For the hearing impaired, users can directly adjust the frequency of audio playing on their Apple wired headphones, AirPods, or Beats headphones, with support for multiple profiles. Along with this, users can customize the exact properties of AirPods Pro's transparency mode to match their hearing needs. Users can also enable notifications when the iPhone hears certain triggering sounds like alarms or doorbells.
All this is also made more convenient with the Back Tap feature, which lets users map certain accessibility-related actions to a double- or triple-tap on the back of the device.
When it comes to accessibility additions, keep 'em coming, Apple.
iOS 14 grab bag
Not every app got a big overhaul, or even all that many new features, but iOS 14 tweaked almost every app in at least some small way. There are tiny OS-wide tweaks and new features, too. We won't list every tiny design or flow tweak, but here are some other changes worth mentioning.

Samuel Axon


Samuel Axon


Samuel Axon


Samuel Axon


Samuel Axon


Samuel Axon


Samuel Axon


Samuel Axon


Samuel Axon


Samuel Axon
Safari
Safari offers webpage translation (in beta) to English, Spanish, Simplified Chinese, French, German, Russian, and Brazilian Portuguese
Passwords entered in Safari are checked against passwords that are known to have been involved in a data breach
Files
Files now supports APFS encrypted external drives
Home
Home now supports adaptive lighting on connected light bulbs
Machine learning is used to drive automatic suggestions of specific Home-related controls in Control Center, and suggested automations also appear in the Home app when managing devices
Home supports facial recognition on connected video cameras and camera-equipped doorbells
Users can set "Activity Zones," defining the areas of a camera's view that will trigger events so things like the neighborhood dog wandering across the street won't trigger anything
Health
Health includes nominal sleep-tracking features, though they're not much to write home about compared to competitors
There is now a "sleep mode" that allows you to define a sleep goal, set an alarm time, limit your device access during wind-down times, and see notifications on your sleep schedule. It can also be accessed from the Clock app. (It's worth noting that the transition to this broke many people's existing alarms in iOS 13, so beware when you upgrade.)
AirPods and Music
AirPods connected to devices running iOS or iPadOS 14 now support spatial audio
AirPods support automatic device switching, a feature Apple announced long ago when AirPods were first announced but has only just delivered
There are various ways to track your AirPods battery state across iOS (the same is true of your Watch, too)
Users may see hearing health warnings and see volume reductions if they are listening to audio too loudly on headphones
App Store and Apple Arcade
Game Center, Achievements, and Leaderboards have gotten a redesign and a number of new features, like an improved dashboard, a unified interface and service for multiplayer matchmaking, and new, timeline-specific leaderboard options
App Store subscriptions can be shared within a family group
Games that your Game Center friends are playing are now displayed as recommendations in the App Store
You can "continue playing" recently played games from the Games or Arcade tabs in the App Store, similar to the Watch Now list in the TV app
Potential Game Center friends from your contacts are suggested to you within the App Store
Users can use Apple Cash to pay allowances to household members under 18, among other uses
FaceTime
FaceTime video quality has been improved on some devices
Machine learning is used to artificially adjust the image to make it look like eye contact is occurring even when participants are not looking at the camera
FaceTime calls detect users who are using sign language and focuses on them when they are doing so
Voice Memos
You can now "favorite" recordings
Voice memos now has folders that you can store your memos in, rather than one giant scrolling list. This includes smart folders like one for recordings taken from an Apple Watch
There's now a machine-learning-driven background noise-cancellation feature
Weather
The Weather app will display alerts about incoming extreme weather conditions
The app also offers minute-to-minute precipitation reports
There's more information on precipitation in general in various parts of the app
Photos
The image picker has a new design
New sorting options include edited, favorites, videos, and photos filters, as well as the ability to sort albums in order of either newest or oldest
Find My
Apple has launched a new program to bring third-party devices onto the Find My service
Shortcuts
You can sort Shortcuts into folders and create Shortcuts based on new triggers like the battery level of your device
What about the iPad and iPadOS?
When covering iOS and iPadOS updates together over the past year, I've gotten in the habit of noting that just about everything I said about iOS and the iPhone also applies to iPadOS and the iPad. This year, that's not at all true.
You know that potentially useful and game-changing App Library in iOS 14, and the related ability to hide apps from your home screen? It's not present on the iPad at all.
And home screen widgets—iPadOS had those first, so they should be even better on the iPad, right? Wrong. iPadOS still supports home screen widgets, but as in iPadOS 13 last year, those apps can only go in a specific place on the very first home page screen. The improvements brought to iOS 14 didn't make it over to the tablet, apart from the new three-sizes approach and the widget library, along with some other small things.
It's a bit bizarre, to be honest. Last year, iOS 13 was an iterative update, but iPadOS 13 was huge. This year, iPadOS 14 is a bit of a nothingburger, apart from some Pencil-related updates, and iOS 14 is a major move. Will Apple just start alternating its focus from year to year moving forward? I don't know. But given that features like the App Library would be at least as useful—if not more useful—on the iPad as the iPhone, it's disappointing to see them omitted.
So in that light, we're not going to spend as much time on iPadOS as we did last year. We'll just go over some of the new features, starting with the Pencil stuff.
Scribble and the Apple Pencil
By far, Apple paid the most attention to the Pencil in this iPadOS update. The most prominent new feature is Scribble, which lets you write in any text field across the operating system with the Pencil and see it converted to text. It works surprisingly well, thanks to machine learning.
If you're the type to enjoy the pen or pencil experience when using a tablet (I am very much not, but that's a purely personal preference), this is a game changer. Those comfortable with handwriting will find the iPad a much easier-to-navigate tablet, and these users will rarely have to pull up the keyboard for that awkward on-screen typing experience.
After testing, I can't say enough about how well this feature works: it's quite good.
Additionally, you can select handwriting that hasn't been already converted to typed text and copy it as typed text to be pasted in a text field elsewhere—meaning you can pull from your handwritten notes into a Google search, in one example. And it's worth noting that all of this happens on-device.
Also, there are some new, app-specific contextual menus that become available when using the Pencil—like a one-tap icon for assigning a date to a reminder in the Reminders app.
I am not a by-hand note-taker, and while I have used the Apple Pencil for drawing, I've never used it for notes except to test that these features work. So I'm unfortunately not an ideal judge of how much these improvements, well, improve things. They seem to work fluidly enough to me, for the most part.
Ars Technica Managing Editor Eric Bangeman will be reviewing the new iPad Air, though, and he is an avid Pencil note-taker. Look out for his insights in the coming weeks.
Other iPad changes
The system-wide search field has been redesigned to take up a small part of the screen (this is similar to how it appears in macOS) and gets the new functionality and improvements that the iPhone software's search got. Siri and incoming calls, too, are less invasive, as on the iPhone. Apple has also added new, useful sidebars, toolbars, and pulldown menus to several of its own apps.

Samuel Axon


Samuel Axon


Samuel Axon


Samuel Axon


Samuel Axon


Samuel Axon


Samuel Axon


Samuel Axon


Samuel Axon


Samuel Axon


Samuel Axon
For a few examples of the minor tweaks to various parts of iPadOS, check out the gallery above.
iPhone transformation, iPad iteration
With iOS 14, Apple has brought some of the biggest comparative advantages of Android—home screen widgets, better app management, and default app customization for email and the browser—to iPhones. These features so heavily resemble those in Android, it's hard to look at it any other way.
But in doing so, Apple has further shifted the debate about differentiators between these two platforms to privacy, services, and policies. It's not my place as a reviewer to tell you which platform's philosophy is better for you personally. There are good arguments for both. And it's a good thing that the features of these two operating systems have gradually grown closer together, because it lets users more freely invest in the platform that represents their values and needs.
But Android comparisons aside, there's also the question of how the iOS 14 experience compares to that of iOS 13 or before.
Everything Apple has done with the home screen on iPhones is welcome, if overdue. But I still feel that more work has to be done. Among other things, wiggle mode home screen editing and auto-sorting icons have got to go.
I'm much more gung-ho about the more compact UI for Siri, incoming calls, and so on. And if you use a Watch or AirPods, the battery notifications and widgets are immensely useful. Search is significantly improved, and every privacy or accessibility related addition is completely welcome. This is one of the best iOS updates in a long time. My only major complaint about it is that it doesn't go far enough when reinventing the home screen.
So should you upgrade to iOS 14? Ultimately, yes. You should expect a few minor transition-related inconveniences as always, but iOS 14 generally makes the iPhone more powerful, flexible, private, and secure. (iPadOS is a pretty minor step for most, though—it's worth upgrading, but don't expect anything transformational unless you're really into handwriting.)
There's one big caveat: I usually don't recommend that users upgrade until the xx.1 release that comes a couple of weeks after the launch. That's because bugs are always present. Case in point: I've observed that my iPhone XS runs unusually hot to the touch on iOS 14, and I seem to have taken a small hit to battery life. Other users have reported this same issue.
It's likely to get fixed in a future update, but it's a good example for why you should hold off until the kinks are ironed out. If there's one thing that's better than the hot new release of iOS, it's the update right after that one.
The good
Widgets and the App Library make the home screen much more useful and manageable
You can change default email and browser apps
Calls and Siri no longer take over the device
Excellent accessibility features
More privacy improvements
Machine learning-related features have gotten more accurate and useful compared to a couple of years ago
Scribble is a big deal for those who use the Pencil a lot
The bad
iPadOS 14 is a barebones update for those who don't use the Pencil a lot
iPadOS 14 lacks the majority of the new home screen and app management features of iOS 14, inexplicably
There are some launch issues as usual, including both bugs and lesser initial third-party app support because iOS 14's short-notice launch left many devs in a lurch
In general, many apps received less robust updates than they did last year—the focus seems to have been mostly on the home screen
The ugly
Editing the home screen in wiggle mode is even more of a grief-inducing experience than it was before, even if the final result is now more useful
Source link